The stories began unfolding in summer 2017 Pasqua First Nation when Danna Henderson took Ann to see the horses that had been turned to rock overlooking the Qu'Appelle Valley. This story has led to others and so we followed this path of the Horse and their spirits to see what would unfold. In October 2017 Dianne, Ann and Lindsay traveled to the Qu'Appelle Valley with Regina-based filmmaker Janine Windolph. We visited with Elder Lorraine Yuzicapi from Standing Buffalo Dakota Nation where she shared teachings of the land, traditional food, spirit. We held a 2-day production workshop that took us to a field of horses in Pasqua First Nation. Danna'sfather Elder Harold Henderson shared stories, sang and drummed. With Lifespeaker and Linguistic Advisor Jhaik WindyHair, Ann and Janine journeyed to Sakimay and Cowessess First Nations where Jhaik shared teachings about the Grandfather rocks. He shared stories of where the Creator stood when he made the valley, where spirit horses in the form of rocks watch over the people.
By October 2018 Dianne had reached the Qu'Appelle Valley, in Treaty 4 Saskatchewan. She and Ann connected again with Danna, Janine, Lorraine and her daughter Holly Yuzicapi, a visual artist. Lorraine's son Trevlen looks after the herd of buffalo that roam the Standing Buffalo lands and he took us along with Holly on a trip to see and film the buffalo. So the buffalo have also made it into this collection of stories and teachings. We were fortunate to be able to visit again the herd of horses in Pasqua thanks to Lorraine Pascal and her son Frances who shared his story of returning to visit the horses for the first time since he was a boy. He has a profound connection to the horses who 'see the hurt in us and come to take it from us…' Frances teaches Dianne how to approach the horses and offer sage to show respect.
We filmed with Holly at the Takoza Tipi Camp in Carry the Kettle First Nation. Tim Haywahe and his son Tim erected a tipi as the snow fell. Inside around a fire, Holly shared many stories and teachings including how to make a memory bag.
There are so many stories held in the land and with the people in the Qu'Appelle Valley. We are grateful to have learned about some of them.
Takoza Tipi Camp offers a First Nations fresh air experience to all people to create an understanding of the traditional First Nation history and culture that was passed down through the generations.
A knowledge keeper for Standing Buffalo Dakota Nation, gives workshops on traditional foods and teas across Canada. Her knowledge includes traditional uses of mostly local foods and teas, their preservation and preparation. She is a firm believer in maintaining health through the preparation of traditional foods, and using Traditional Medicines to heal the body inside and out. The Sioux Nation is divided into seven sacred campfires and each one has different ways of cooking, gathering and preparing food. Elder Lorraine's way is the way of her mother and grandmothers.
Pictured above, Danna Henderson with her children and mother Andreanna Gordon. Danna Henderson, Community Wisdom Partner, lives and works in Pasqua First Nation. She is a mother, activist, actor and health care professional. Her acting roles include Wind Fall, Moccasin Flats and This Time Last Winter. Her visits to the Standing Rock resistance fueled a spiritual awakening and a commitment to water protection of the Qu'Appelle River.
Jhaik WindyHair is from Cowessess First Nation in Southern Saskatchewan. Jhaik has two daughters and one son, three granddaughters and two grandsons. Jhaik loves his family as well as his culture. He enjoys adventures with family. He also enjoys learning languages of other First Nations. He attended University of Regina in the late 1990s earning a degree in Bachelor of Arts in Linguistics. His love for languages and teaching, sharing life lessons and stories continues each day.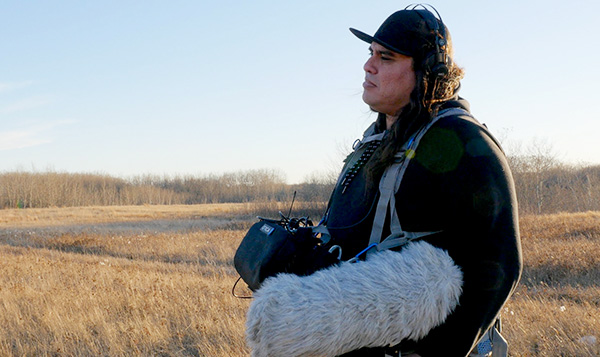 Roman Empire Studios, Regina
"I have a passion for all things audio and find this profession to be an exciting life long adventure. I have been educating myself as an audio engineer and songwriter for over a decade now. I have a wealth of experience in electronic, acoustic, rock and metal genres.  In the last couple of years, I have also expanded into sound design and music composition for film, as well as producing various musicians.  I thoroughly enjoy providing accompaniment for solo artists and creating original music for film using digital composition and audio editing.
My philosophy is that almost anything goes in the recording world.  It starts with a good idea, but from there it's all about collaboratively deciding what sounds best for a particular project. I don't believe in limiting myself to one approach for all recording sessions.  I am very flexible and committed to the natural progression of a session while still being time efficient.  I also strongly encourage clients to get in touch with the emotional aspect of their performance while recording.  I strive to provide a safe and comfortable environment to explore artistic expression."
Janine Windolph is a Saskatchewan filmmaker, performer, producer/director, multimedia storyteller, educator and entrepreneur who draws from her combined heritage of Atikemak-Woodland Cree and German. Janine's films include Regina Indian Industrial School's RIIS From Amnesia: Recovering the Lost Legacies and From Up North for the NSI Aboriginal Documentary 2016 program about the experience of being Statement Gatherers for the Truth and Reconciliation Commission.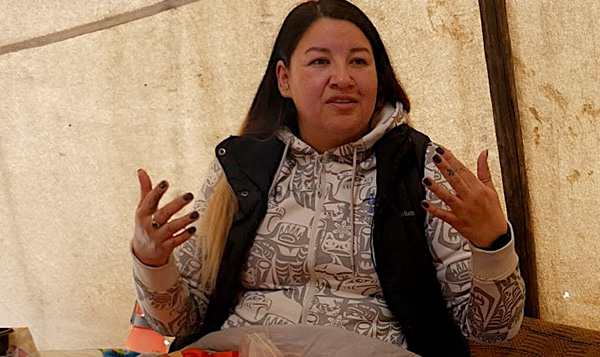 Holly Rae Yuzicapi is a proud Dakota/Lakota woman from the Standing Buffalo Dakota Nation in Southern Saskatchewan. Growing up in a Dakota family, Holly has learned a lot about traditional arts, foods and dance. She is a Cultural Arts instructor that has travelled across Canada delivering sessions to all ages. Holly has done a lot of youth engagement and has a passion for helping youth make stronger cultural connections. She has a strong belief that traditional art and cultural experiences will share the history of First Nations people and believes art can create a strong sense of identity and confidence for young people. Holly also believes that creating unique common cultural sharing opportunities will help create a strong foundation for building relationships.
As a former Cultural Arts Consultant with the First Nation, Metis and Inuit Education unit with Edmonton Public Schools, Holly has travelled to many schools facilitating whole school four day cultural engagement visits. These visits have been well received in schools and have also been featured on CTV Edmonton and in the Alberta Teachers Association newsletter.
Holly has been providing professional learning sessions for educators and hosting different topics to help educators become more culturally engaged in the classroom from a First Nations, Metis and Inuit perspective. Providing First Nation influenced activities to schools and professional learning opportunities for teachers has encouraged positive cultural discussions among students and staff as well as bringing understanding to a foundational level.
Participants have the opportunity to participate in meaningful discussions and interactive activities exploring the fundamental elements of culture.
Authentic engagement and experiential learning with activities in themes such as Introduction to Culture, Traditional Foods, Cultural Arts, Traditional Games and Design and Identity.
This Beacon has grown out of the creative collaborations between Danna Henderson, Janine Windolph and Quiver Artist Collective member Ann Verrall. All three were involved in the short drama This Time Last Winter created through the Director in Residence program at the University of Regina (2009). Since then Janine and Ann have worked on several community-based video projects in La Ronge and Cumberland House Cree Nation, SK. These projects were in partnership with Mispon: Celebrating Indigenous Filmmaking and the Saskatchewan Filmpool Cooprative. For more information on these project: